Dairy farming has been an age-old business in India passed down from generation to generation. During the late 20th century, this tradition saw a decline. However, thanks to the advancements made in science and technology, huge progress has been made. The contribution made by Amul in the form of the 'White Revolution' played a very important role in transforming the dairy industry in India from its stagnation level to a world leader.
Requirements of Dairy Farming Business
Below mentioned are the components of Dairy Farming to be used or installed before and after starting business:-
Shed: There must be proper covered area built in the farm land before bringing in cattle to be kept.
Land: Farm owners should maintain cultivated areas or land for growing fodder crops for cattle. The land area basically depends on the number of cattle to be kept. Usually, 1 acre of land is sufficient to feed around 7-10 cows.
Water and Fodder: Both of these things should be in abundance, as water helps in the growth of green fodder and fodder further helps in the proper nourishment of cattle.
Breed Selection and Vaccination: To yield more milk, there should be good cow breed selection. Moreover, to control diseases and protect cow's health, their caretaker should have a strict vaccination schedule.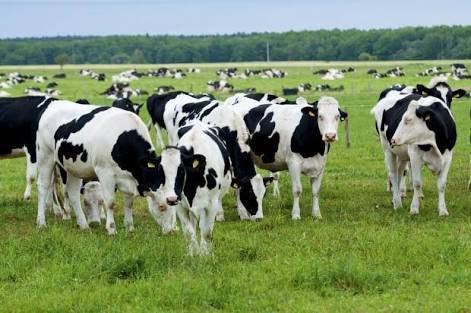 Starting Steps in Processing the Dairy Farm Business
Setting up dairy farming business in India is not so easy. You have to go through several important steps for setting up dairy farming in India. Consider the following tips while starting dairy farming business in India.
First of all, you have to decide the aim and objective of your farm (includes housing, feeding, breeding, number of animals to be maintained, etc.
Try to visit some commercial dairy farms. Discuss with the experienced farm owners about his dairy farming system and secrets. Try to visit as many farms as possible. This will help you to analyze various farming systems and extremely broaden your knowledge.
While visiting various farms, try to analyze their every event deeply.
Visit your nearest veterinarians and discuss the possibilities of dairy farming in your area.
If your plan is to maintain the farm on your own, then try to work for an existing farm for at least six months.
Be conscious about the availability of food and its costs. You also have to stock food for adverse seasons.
You have to employ hardworking labor with some practical experience. In some cases, you can also train them for specific dairy farm jobs.
Visit your nearest market occasionally and observe the price and demand of live animals and dairy products. Keeping good relation with the market help you for getting the proper value of your products and purchasing necessary commodities.
And lastly, try to learn more and more about dairy farming in India. Read lots of books, visit numerous farms, gather experience, make proper business plan and finally do it.
Which Breed of The Cow is Best to Provide You With More Milk?
In India, you can find lots of cows when people start a Dairy Farm business. Here are some of the best cows that you can choose from when beginning your farm:- Sahiwal, Gir, Rathi, Tharparkar, and Red Sindhi. But one of the best cows which every Dairy Farm owner prefers in India to make a tremendous amount of profit is HF (Holstein) cow. It's a foreign breed cow that can give you from a minimum of 10,000 ltr. to 30,000 ltr. of milk per year, and the quality of the milk supplied by this cow is satisfactory and healthy for people. You can buy this cow from 50,000 to 70,000.
Getting Some Initial Professional Training
Opportunities for training are available with most of the:-
Agricultural/Veterinary Universities of various states
Krishi Vigyan Kendras
State Department of Animal Husbandry
State Institute of Rural Development
Conclusion
Looking after and maintaining good animal health is the gateway to successful dairy farming in India. Maintenance of animal health, looking after its breeding and nutrition supplemented with proper information system is beneficial. The government has created Information Network for Animal Productivity and Health (INAPH) for the benefit of farmers. It records the on-field cattle activities, schedules, and nutrition.